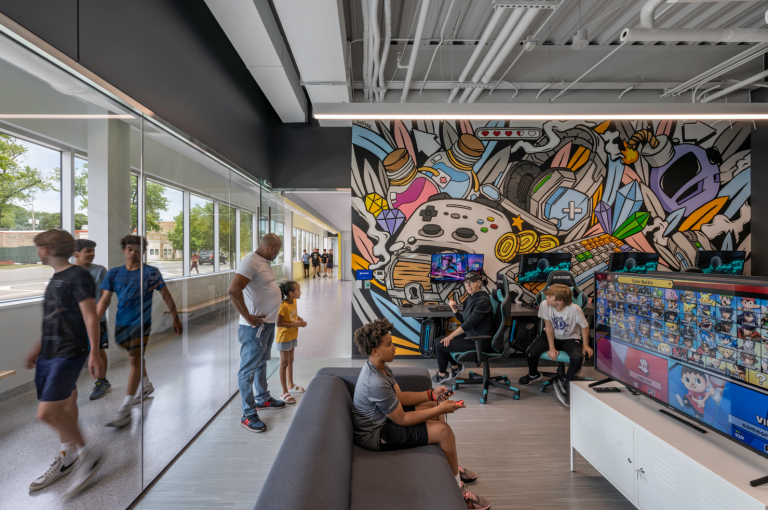 Welcome to the CRC Esports Lounge. The lounge welcomes gamers of all skill levels to enjoy casual and competitive game play. The environment is ideal for video game enthusiasts and players of all ages with gaming chairs and couches, large screen monitors with video game consoles, ambient lighting, and wall décor to set the mood. The lounge will be equipped with the latest video gaming platforms and games, including Playstation, Nintendo, Xbox, PCs too with games for each platform.
The Esports Lounge will include open play time for youth and adults including competitive tournaments. You can find the schedule on our website. For safety of visitors, the following guidelines are in place:
All games played on-site must be approved by staff.
Personal headphones need to be used for all game play and personal music.
Food and drink are prohibited.
Esports Open Lab Schedule
Monday –Thursday – Open Lab 6:30-8:30pm
Saturday – Open Lab 10:00-12:00pm (Youth 8-11 yrs old only)
Sunday – Open Lab 3:00-5:00pm
Please note: Mon-Friday: 3:00 PM – 6:00 PM is reserved for the Youth Afterschool Program participants.
Throw a birthday party everyone is sure to remember at the E-Sports Lounge at Community Recreation Center!
Our fun and experienced staff will provide a fun gaming environment!
We will work closely with you on every detail to ensure your birthday party is filled with fun. Let us throw your party with memories that will last a lifetime!