While dogs are allowed in all Oak Park parks while under the control of their owner on a leash no longer than eight feet, the Park District of Oak Park also gives your tail wagging companions a place they can call their own and run off leash.
Currently, the Park District operates dog parks at two locations: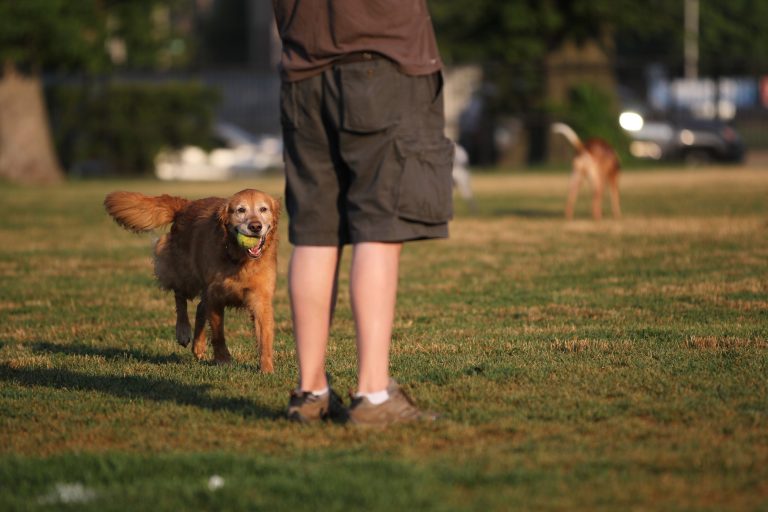 Located in Maple Park at the corner of Maple and Lexington, the Maple Dog Park is a dedicated off-leash site that covers approximately 12,000 square feet. The park features a crushed granite surface, benches, canine water fountain and an electronic entry system. Dog park permit required for access.
Ridgeland Common Recreation Complex Dog Park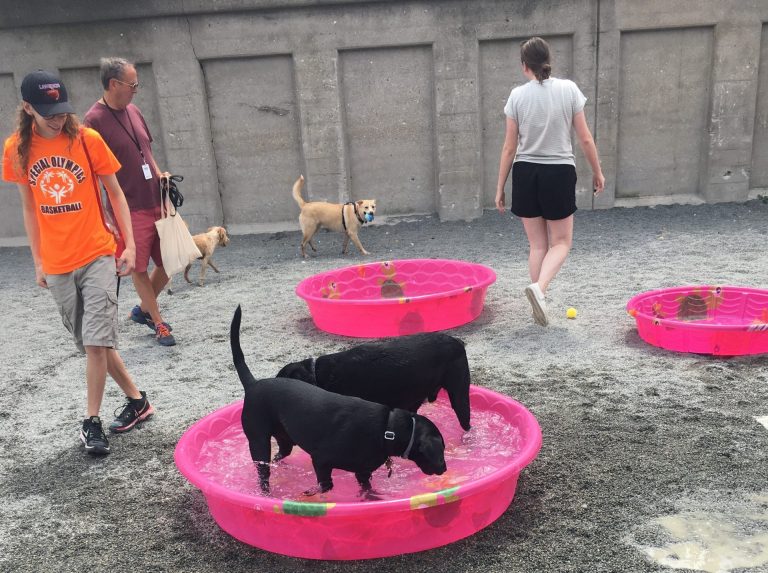 Centrally located just south of Lake St. and Scoville Avenue, our new RCRC dog park covers about 11,000 square feet. It features a crushed granite surface, benches, an electronic entry system, and water fountains for dogs and humans! Dog park permit required for access.
Did you know that dog Park Passes are FREE for Oak Park Residents?
No children under the age of 11 are permitted within the dog park at any time. Children between the ages of 11 and 17 must be accompanied by an adult and behave in an appropriate manner: no running, no chasing dogs, no petting of other dogs unless permission is requested from the owner first.
• You are entering this area at your own risk.
• No more than 2 dogs per person are permitted within the park at any one visit.
• No dogs under the age of four months or female dogs in heat permitted in the park.
• You are solely responsible for the actions of your dog. Upon entrance you assume the full risk of any injuries, damage or loss connected with or associated with the use of the dog park.
• You must be in the park monitoring your dog at all times.
• You must leash your dog(s) while entering and exiting the park and must have a leash in your possession at all times.
• You must leash your dog immediately if aggressive behavior is observed. No dogs known to be aggressive toward other dogs or people may enter the area. Dogs must be removed from the park at the first sign of aggression. Repeated removal may result in loss of privileges. 
• You must pickup and dispose of any waste generated by your dog(s) and fill all holes dug by your dog(s).
• Dogs must wear current Oak Park license tag and rabies tag and be up-to-date on shots required by the Park District. Collars must be worn at all times. No pinch or spike collars allowed.
• Entry to the dog park is restricted to persons who have obtained a permit from the Park District. Owners must wear the dog park permit/pass at all times.
Dog owners not complying will be subject to fines of up to $1,000.00. Periodic monitoring and surveillance will be conducted by the Village of Oak Park Animal Control Officer and the Village of Oak Park Police.
If you are visiting our dog parks, please bring your own bag to pick up after your dog!
The Animal Care League offers a variety of programs throughout the year. To find the perfect program for your pooch visit the Animal Care League.
The Forest Preserve District of Cook County offers an off-leash dog grove at Miller's Meadow 2175 S. First Ave, just north of Cermak Road. See more info about Miller's Meadow.