Featuring Community Artwork at the CRC
A series of mosaics created by Longfellow School art students in 2000 will be featured on the front entrance wall of the CRC to honor the creativity and hard work of the students of Longfellow School and welcome visitors to this Oak Park facility.
In 2000, five mosaic columns were made for a community space to be located behind Longfellow School. They depict the stories of Oak Park's geography, history and people from prehistoric times up to the present. 
The drawings for the mosaic columns and benches were done in art classes by first through sixth-grade students. They were based on the curriculum of the grade level, i.e. the 6th graders studied geology, 5th graders studied famous Oak Parkers, 4th graders studied the history of Illinois, 3rd graders studied Woodland Indians, 2nd graders studied birds and 1st graders studied native plants.
The original goal was to have the columns installed by the 100th anniversary of our village in 2002. While these plans didn't materialize, the Longfellow PTO offered the artwork a second home. With a donation to the Park District, these beautiful mosaics will be featured at the entrance of the CRC to welcome visitors.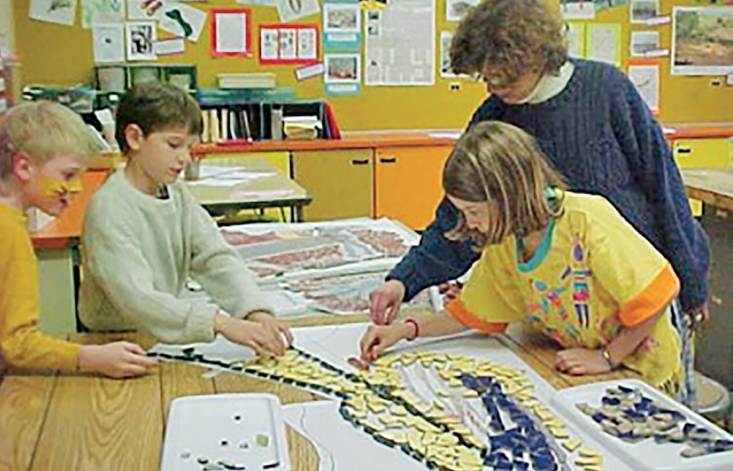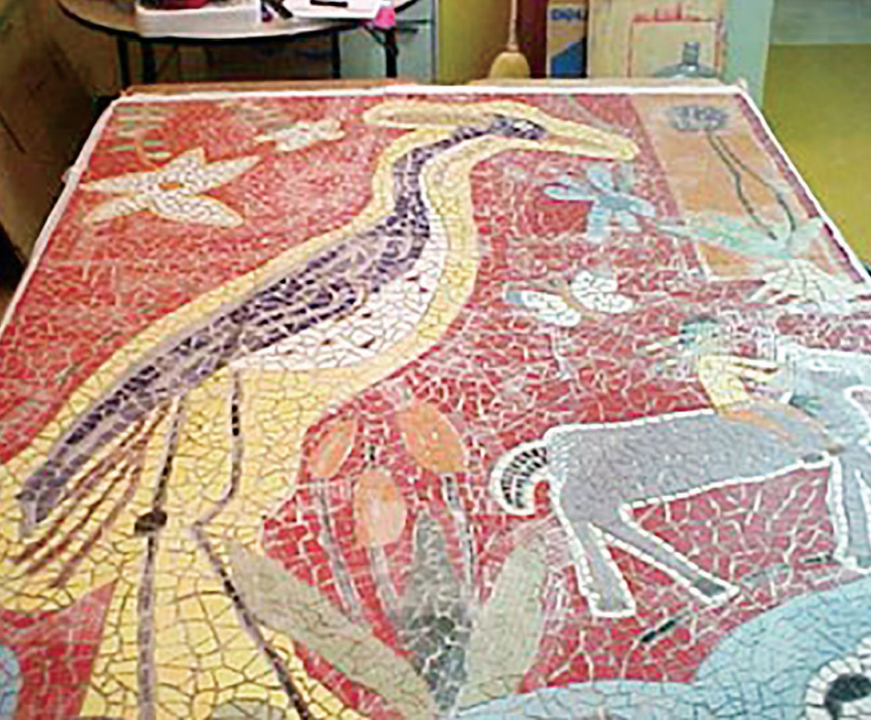 Off the Wall Summer Arts Program
Initially, each mosaic was to be featured independently on columns in the school playground. However, the design of the CRC building called for a single piece of artwork to display. With that in mind, Camille Wilson White of the Oak Park Area Arts Council and head of the Off the Wall summer arts employment program since 2005, embraced this project. With the help of Carolyn Elaine, who leads the program and trains apprentice artists in mosaic tile, will work with apprentices to transform the planned mosaic columns into a large mural that will be installed on the outside wall of the new recreation center. Important to note, that the original artist, Mirtes Zwierzynski, was Carolyn's mentor and trained her 20+ years ago. This connection will ensure the mosaics stay true to their initial design.
Prehistoric Oak Park was part of Lake Chicago
Oak Park was a wetland prairie when the Potawatomi lived here.
After the Chicago Fire of 1871, the population of Oak Park boomed.
In the 1950s, Oak Park was the shopping center for the westside of Chicago and near west suburbs. It was full of families.
Now, Oak Park is known for being a great place to live for all kinds of people.