Join the "Acorns to Oaks" Team!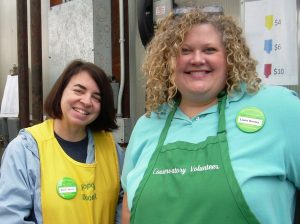 You're invited! Join our dedicated core of volunteers called "Acorns to Oaks" to help improve the quality of life in Oak Park!  By sharing time and talent, volunteers have the opportunity to enjoy the outdoors, meet new people and make a difference in our community. 
When you volunteer through Acorns to Oaks, you can …
•  Share your time and talent with the community
•  Develop new interests and friendships
•  Continue learning and growing
•  Leave an impact on your community
•  Receive a2o Rewards for your volunteering hours!
Individuals and Families
Choose an activity or program based on interests and time availability.

Businesses and Organizations
Build a company's public image and improve staff morale by building a "team" attitude by contributing staff and/or resources to a single service project or an ongoing activity.

Teens and School Groups
Boys and girls at least 14 years old are invited to acquire new skills and gain valuable work experience
You can learn more about specific opportunities below, or download the Acorns to Oaks Volunteer Team info packet!
Frank Lloyd Wright Races – Celebrating over four decades of the Races!
The Frank Lloyd Wright Races features a scenic run, winding through the historic Frank Lloyd Wright and Prairie Home District of Oak Park. In order for this historic running event to run smoothly, the help of over 100 volunteers is needed. To volunteer, please visit pdop.org/flw
Park District Volunteer Citizen Committees
The Park District values community input and involvement and has organized four citizen-lead volunteer committees to work with the Park Board of Commissioners and staff for the betterment of the District and our community. More information can be viewed on our Citizen Committees page.
Active Adult Ambassador
The Park District of Oak Park is passionate about providing quality recreation experiences for the seniors of Oak Park. The Park District currently offers a wide range of activities for seniors, including trips, fitness classes, luncheons, a book club and more. Volunteers specific to the Active Adult program- Active Adult Ambassadors are currently needed for:
Trip Chaperones
Book Worms Discussion Leader
Food & Flicks and other luncheons
Basic Requirements for Volunteers:
The most important requirement to be a Active Adult Ambassador is the ability to commit to the program you volunteer to lead. Secondly, volunteers must have a genuine passion for improving the quality of life for those 50 and better in our community through sharing your special skill with them.
If you have interest in a volunteer position with the Park District of Oak Park as Active Adult Ambassador, please call (708) 725-2000.
Youth Sports Volunteer Coaches
Youth Sports Leagues depend on volunteers. If you are interested in volunteering to coach a youth basketball, soccer, floor hockey, or a flag football team e-mail Ryan London or call (708) 725-2155.
Historic Properties Volunteers
Oak Park Conservatory
Volunteer opportunities at the Oak Park Conservatory give gardeners the chance to learn new gardening skills and practice already-acquired skills while working in this beautiful tropical paradise. A wide variety of Volunteer Opportunities at the Conservatory are available.
For more details about either of these opportunities, e-mail patti.staley@pdop.org or call her at (708) 725-2451.
Cheney Mansion
Cheney Staff are looking for gardening volunteers to help in Cheney's greenhouse and with the beautiful grounds that surround this historic property owned by the Park District of Oak Park. If you are interested, please call (708) 383-2612.
Pleasant Home
Volunteer opportunities at the historic Pleasant Home include assisting at special events and educational programs, and working on special Pleasant Home Foundation projects. Volunteer benefits include membership, a discount on merchandise in the Museum Store, and reduced rental fees. Volunteer training is held every spring and fall.
Volunteer Docent positions are also available for those interested in history and architecture, in meeting new people, in sharing their time and talents in a creative and rewarding way, and in creating memorable experiences for visitors. Volunteers at Pleasant Home make the rich history of this National Historic Landmark come to life. Interpreting Pleasant Home is the core of Pleasant Home's services, and only through the dedication and commitment of volunteers staff can this mission be fulfilled. Volunteers of all ages are welcome and junior and senior high school students are encouraged to participate.
If you are interested in volunteering at Pleasant Home, please call (708) 383-2654.