MEMORIAL TREE & BENCH PROGRAM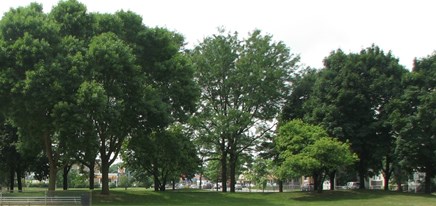 Looking for a unique way to commemorate a birth, celebrate a special occasion, or remember a friend or loved one? Honor these special people and events by adopting a tree or bench and purchasing a personalized plaque for the base of the tree or bench at one of the many Park District park sites. 
With 20 parks and 84 acres of park land, there are a wide variety of locations from which to choose. Starting November 1, 2020, the Park District will replace an adopted tree within the first 10 years of adoption and will replace a donated bench up to 15 years.
Since 1970, more than 500 plaques honoring loved ones and special events have been placed throughout the park system.
The program fee is $750. This fee covers the cost of a standard 4" x 6″ bronze plaque with 4 lines of text mounted in concrete and installed near the base of the tree, and if necessary, replacement of the tree and/or plaque.. You may submit a photograph of the tree you are interested in with this application. If you have not chosen a tree, or need assistance in choosing, our grounds supervisor will be glad to assist you. Trees are available for immediate designation in all parks. Once the order has been placed, please allow up to 3 – 4 months to complete installation based on weather.
|   FEATURES |        TREE |       BENCH |
| --- | --- | --- |
|   Price |        $750 |      $2,000 |
|   Select park of your choice |            X |           X |
|   Select existing tree/bench of your choice |            X |           X |
|   Plaque size (set into 8″ x 1″ concrete form) |        4″ x 6″ |       4″ x 6″ |
|   Number of text lines allowed |       up to 4 |      up to 4 |
|   Characters per line allowed (Spaces are counted as characters) |           15 |           15 |
|   Guarantee* |         10 yrs |        15 yrs |
|    Time to complete (From order placement to installation) |      3 Months |     3 Months |
*In the event your chosen tree/bench becomes compromised after the first 15 years, we will make every effort to replace it.
Ready to start the process of ordering your Memorial item? Apply below!
For more information about honoring a loved one with a tree or bench, contact Susan Curtin, Parks and Planning Assistant at (708) 725-2051.
Another way to honor a loved one is to donate a gift to have spring bulbs planted at Austin Gardens, Scoville Park or the Oak Park Conservatory.