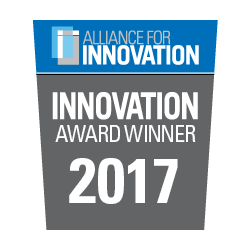 The Park District of Oak Park is continually piloting projects and adapting ideas from outside of the field of parks & recreation. These pilot projects are designed to have measurable outcomes and have the potential to be duplicated, whether at a larger scale in our own community, or by other park & recreation agencies and local governments across the country. Some ideas are big and others are small, but all have been implemented in an attempt to make a positive impact on the way that we serve and collaborate with our community.
The Park District of Oak Park received the J. Robert Havlick Award for Innovation in Local Government from the Alliance for Innovation for our submission, "Launch Pad: Getting Good Ideas Off the Ground". 
The Innovation team is dedicated to ignited ideas with our Spark Ideas Calendar. Every month we will send staff a divergent question to input their ideas and solutions for new programming, services, park features, vending items that improve the efficiency and effectives of current Park District, services, processes, and procedures.
New incentives for ideas launched, post, and votes.
New Flyer and QR codes were created to simplify registration.
All New Hire and Re-hire are introduced to Launch Pad and registration opportunities during the New Hire Welcome Orientation.
QR codes are added to all Instructor-Led training for more awareness and increase participation.
FEATURED PROJECTS RESULTS