Renovated in 2014, Ridgeland Common Recreation Complex is a Gold LEED Certified facility featuring a year-round regulation-sized ice arena, lockers rooms, an outdoor pool, 3 activity/meeting rooms, and a full-service customer service desk.
The pool features a wading pool with slide and play feature, a diving well, sun decks, locker rooms (provide your own lock), family changing rooms, and a separate outdoor aquatics entrance. An ADA lift on the pool deck provides access for all. Concessions are not available. Now AED equipped.
The RCRC Ice Arena is now open year-round. Find public skate hours and other events on the ice.
Learn more about ice skating, hockey and fitness programs at RCRC.
Ridgeland Common Recreation Complex is also home to a dog park.  Learn more about our dog parks or apply for a dog park permit.
Ridgeland Common is available for a variety of rental opportunities. Learn more about rentals at the Park District.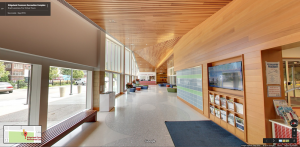 View the Virtual Tour for the Ridgeland Common Recreation Complex.
Customer Service Hours:
You can reach Customer Service via phone by calling 708.725.2000,
In person Customer Service beginning in March 2022.
Mon – Sat: 8:30am-7pm
Sat & Sun: 8:30am-5:00pm
This is a Gold LEED (Leadership in Energy and Environmental Design) facility with numerous energy-efficient amenities.
See the Code of Conduct for Ridgeland Common Recreation Complex