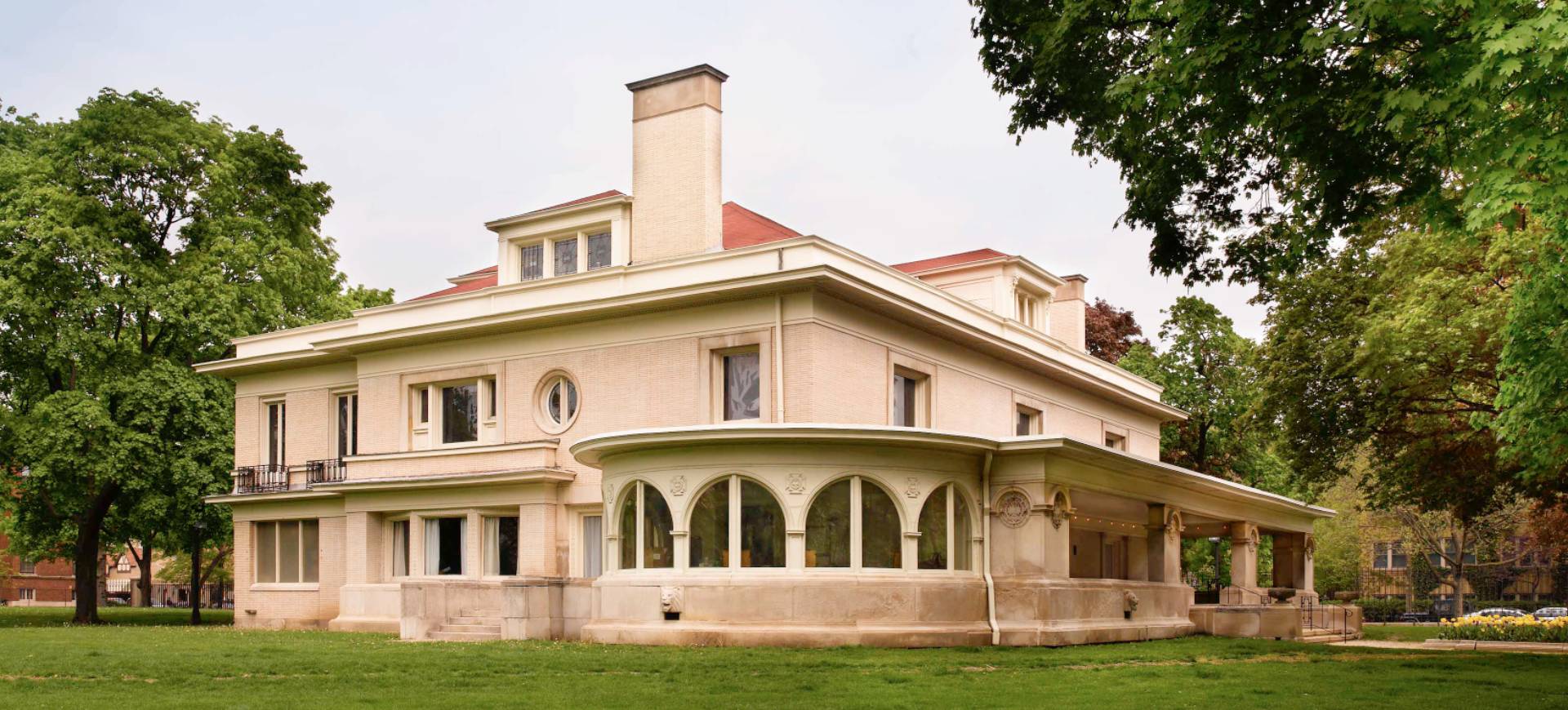 November 20, 2020
The Park District of Oak Park was recently notified by the Office of Governor Pritzker and the Illinois Department of Natural Resources that our community will receive a $421,500 grant for the installation of a geothermal system in Pleasant Home. These funds are available from the Illinois Public Museum Capital Grants Program funded through Governor Pritzker's Rebuild Illinois multi-year state capital program.
Pleasant Home was designed by George W. Maher in 1897 for Chicago banker John Farson. It was in designing Pleasant Home that George Maher perfected his own version of Prairie architecture. Situated in Mills Park, the home was listed on the National Register of Historic Places in 1972 and deemed a National Historic Landmark in 1996. Owned by the Park District since 1939, it was used by many organizations for numerous community events until the Pleasant Home Foundation opened Pleasant Home as a museum in 1990.
Due to the age of this landmark, it does not have air conditioning. As a result, few programs and events are currently held at Pleasant Home in the summer months. The Park District will install a ground source heat pumps (geothermal) system with associated ductwork, pumps, piping and loop field to cool the facility in the warm months and supplement the current heating system in the winter months.
"The Park District of Oak Park is thrilled to be awarded a State of Illinois Museum Grant for the installation of a geothermal system at Pleasant Home. This earth-friendly system will provide much-needed air conditioning to our 123-year-old National Historic Landmark," said Park District Executive Director Jan Arnold. "By adding air conditioning, the Park District will be able to preserve Pleasant Home's interiors while allowing us to increase programming, special events and tours in the summer for guests locally and internationally." This project is slated to begin in fall 2021 and will take approximately 6 months to complete.
The total cost of the project is estimated at $821,000. The remainder of the project funds have been allocated in the Park District of Oak Park's Capital Improvement Budget. Since 2007 the Park District has been awarded over $6.4 million dollars in Illinois Department of Natural Resources Grants which have allowed the District to stretch existing tax dollars while revitalizing many of our parks and facilities. Executive Director Jan Arnold emphasized "The Park District is very grateful to Governor Pritzker and the Illinois Department of Natural Resources for this grant funding."