The Park District is partnering with Paul Goodman, the 3-time Stanley Cup champion and NHL head Strength and Conditioning Coach; bringing proven scientific-based off-ice training to local hockey youth! These programs service various ages.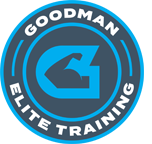 Off-Ice Training & Conditioning, Ages 7-12
Mon/Fri, Various Times
Located in RCRC Multipurpose Room
Tone and toughen up like never before with renowned professionals! See what Goodman himself relays about his training:
The goal is to develop the "complete athlete"! All programming targets different physical aspects…speed, power and more…to accumulate into the perfect training instruction. (Ages 7-12)
Winter Break Hockey Clinics, Various Ages
Get an edge on the competition over Winter Break and train with Goodman Elite at Ridgeland!
There are different offerings per age level, including 2 day contact clinics for 12U and 14U players.
Need full day care? Contact Kayla Lindgren and we will bundle the general RCRC Winter Break Camp for your child to have care available for 8am-6pm needs.
As appreciation for current Ice Bears, we have created Promo Codes for all Winter Break Goodman Clinics at Ridgeland.
$15 Off 1 Hour Clinics – OAKIE15
$80 Off 12U/14U Contact Clinics – OAKIE80
Monthly Stride Clinics, Ages 7-9
Stride Clinics will consist of 1 hour on ice then transfer to 30 minutes of off-ice work; we'll focus on the players skating and movement. Coached by Goodman Elite Coach Nenad, we feel these are low commitment, high reward sessions!
The first November Clinic is during the 2 week game break! Space is limited, so register now!