Gymnastics Preschool Playtime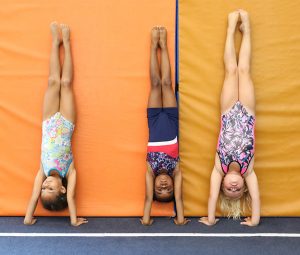 This open gym is a favorite with preschoolers!
Ages 1-6 years $6 per visit (under 1 year free).  Passes are also available (10 visits= $50).  Buy yours online today! Pass is valid for One Year from purchase date. If your child misses a class they can attend a Preschool Playtime within the same session free of charge.
Max pre-registrations per playtime – 50
HOURS: Schedule through June 10, 2022:
Tuesdays  – 10:15am-11:45am
Wednesdays  – 10:15am-11:45am
Fridays – 1:00pm-2:30pm
Summer Preschool Playtime Schedule:
Summer Preschool Playtime schedule  is June 12, 2022 through August 21, 2022.
Sundays 9:00am – 10:30am
Rules: All children must be accompanied and supervised by an adult at all times. Only one adult per registered child is permitted. All adults and children age 2 and up will be required to wear a face covering. Under age 2 is recommended if the face covering can be worn safely without obstructing the child's ability to breath. Snacks during playtime in the lobby are highly discouraged