There are two major methods of support:
1.) TRIBUTE PAVER BRICKS
In 2019, the Parks Foundation of Oak Park began planning to run a capital campaign to assist the Park District of Oak Park in covering the cost of construction for a Community Recreation Center to provide "A Place to Belong" for all Oak Park residents.
The community has been extremely generous with over $15,000,000 fundraised to date to cover the costs to build this facility. 
2.) CRC Yard Signs
Everyone who purchases a paver or who donates $25 or more to the campaign, will receive a free yard sign to shows your support of the CRC and the community!
Now that the Parks Foundation has reached the 75% mark, we are reaching out to the community as a whole asking you to purchase a tribute paver brick to help raise funds for this facility as well as to show your support for this great community asset.
The Parks Foundation of Oak Park invites you to donate an engraved tribute paver brick to help us reach our fundraising goal as well as leave a lasting imprint at the gateway to the Community Recreation Center.
Join us by purchasing a paver brick or two in honor of your business, organization, a family member, or in memory of a loved one.  
Proceeds from the tribute paver brick sales will go towards our Community Recreation Center Capital Campaign and costs of the paver bricks are tax deductible.
How to purchase a Tribute Paver Brick: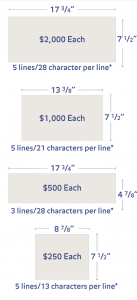 Select paver size
Enter your personalization* (spaces count)
Please type in 'LEAVE BLANK' in any of the lines that you don't want to use
Proof your message and spelling
Submit payment
Confirm your desired message/name
Pavers will be installed at completion of project; expected to open April 2023
*Characters allowed include letters, blank spaces and special characters.
All tribute paver brick donors will also receive this yard sign that shows your support of the Community Recreation Center.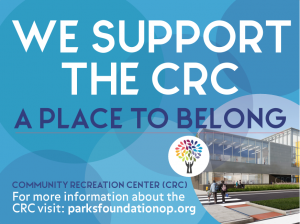 Donate to the Parks Foundation's Community Recreation Center Campaign:
No gift is too small and all gifts should be directed to the Parks Foundation of Oak Park. All gifts are tax-deductible.